Christina Aguilera e Celine Dion scrivono due bellissime lettere ai loro fan gay: "Continuiamo a lottare, non è facile essere gay oggi, ma voi siete dei fighters!"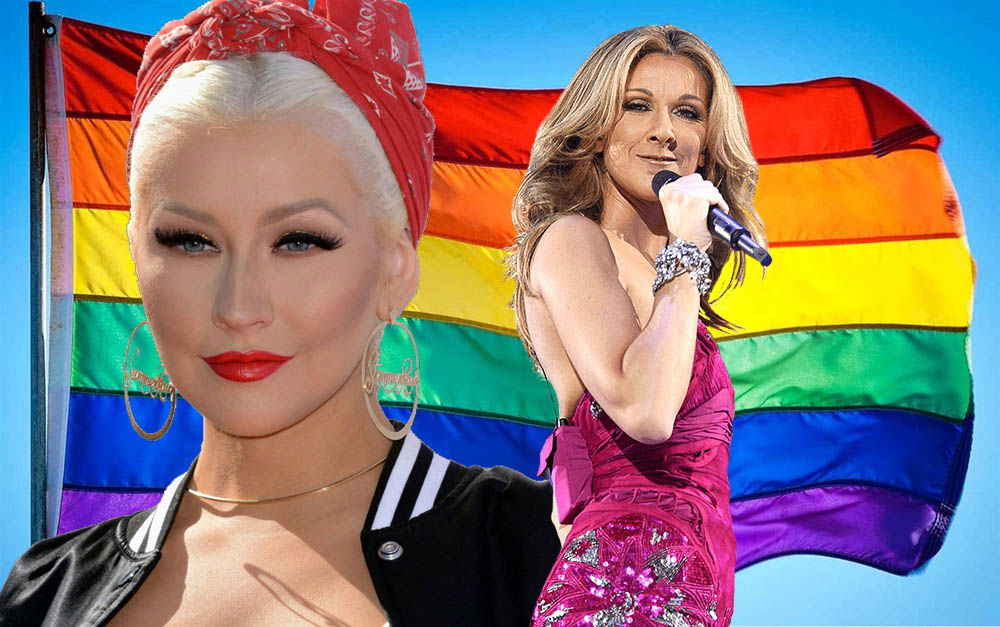 Come Britney Spears
, anche Christina Aguilera e Celine Dion (
insieme a decine di altre star
) hanno scritto le loro lettere indirizzate ai fan LGBT per celebrare il mese del Pride. Questa è davvero una bellissima iniziativa di Billboard, fiero delle nostre popstar.
"I'm honored to be able to offer words of enthusiasm, encouragement,
- scrive Celine -
and strength, in support of Pride and all of my friends in the LBGTQ community. I've always said that music is a language that has no barriers, and it's also true that love is an emotion that has no barriers. I've been fortunate to be surrounded by so many beautiful people from the LGBTQ community throughout my entire career... from talented performers, musicians, producers and songwriters, to colleagues who have contributed significantly to my success, and last but not least, to so many of my loyal fans who have stood by me, in the name of love.
All of you have made such a positive impact on my life, and I hope and pray that our world will continue to better understand that acceptance and tolerance are virtues that we can never have enough of. For now, I join each and every one of you in this year's celebration of Pride, sending you all my love and wishing you peace and happiness today, tomorrow... and well beyond."
"As we embark on pride month I wanted to reach out and put into words just how much the LGBTQ community - scrive Christina - means to me both as an artist and also as a human being. What I envisioned being a simple letter to write is actually much harder than I expected mainly because I keep asking myself, "how can I put into words the immense gratitude that fills my heart?." I just can't. And this community, this family of exceptional human beings mean so much to me I feel so much pressure to articulate my love for you all, yet here goes.
Starting out in my career there was a lot of uncertainty for me as to who I was and where I fit in. So many labels and so many of societies rules telling me how I should be and what I should be. Yet even in my earliest years when I wanted to scream and jump out of my own skin for not fitting the perfect pop star mold there was a small group of friends that stood by me and still do today. My own little gay inner circle filled with dancers, choreographers and glam folks that to this day remain my best friends in the world.
As my career moved forward and I began making music that spoke to my pain and struggles there were fans that came out to me with stories that literally lifted me up. Those were all my LGBTQ fans that through thick and thin stand with me daily. My fighters, my heroes, the reason I love what I do.
The LGBTQ community has never had it easy, the struggles each one of you faces daily on an individual level and on a broader political and cultural level are unimaginable, yet you keep fighting, you keep moving forward trailblazing and beating all odds with love always in your hearts.
I remember meeting a fan who had just gotten a tattoo of my face near a scar he had. When I asked him why he got the tattoo he told me a story about how he got stabbed because he was sticking up for himself when someone was bulling him about being gay. That because of me, and my music, he was able to be a fighter and to take a stand – he did get stabbed but he survived and the tattoo was a daily reminder that while people can try to break us we will not fall, we will not stand down and we will not be afraid to stand up for what we deserve.
In this month of June and every other day of the year please know that to me you all represent the daily driving voice that tells me to keep going, to triumph against all odds and to celebrate being unique. Because being unique doesn't make us different from anyone else – it just makes us more special.
With love, with respect, with passion, with commitment, with gratitude and admiration I say to all you fighters – I love you."